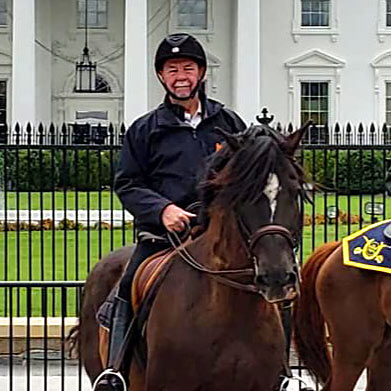 Pat Berkery
President
President of N.A.P.E.C. Pat Berkery, retired Philadelphia Police Department. Pat was with the Philadelphia Police Department for 27 years, assigned to the Mounted Unit for 25 years, with 15 years as a trainer and Head Trainer. After retiring, Pat opened PEC Equestrian Center in Philadelphia, PA. Pat has been professionally training, competing, and instructing for 50 years. Through his love of Dressage, Pat uses techniques and the various movements to emphasize the importance of a good foundation to create the ideal Mounted Police team. Pat won Equitation in 1991 and 1994.

Kevin Piscitelli
Vice President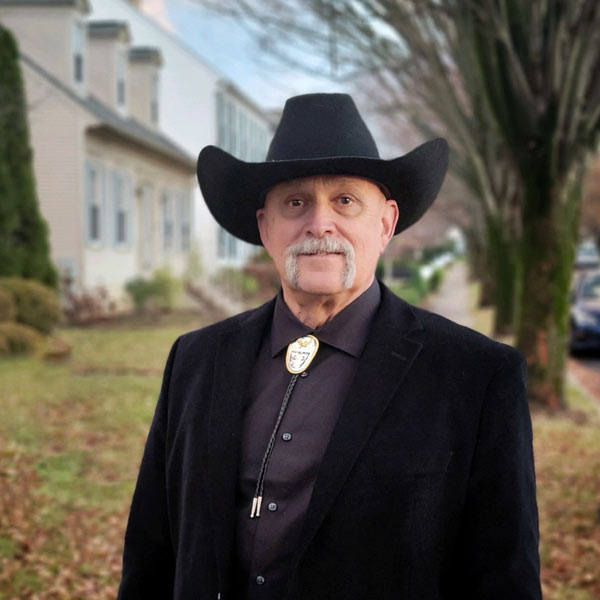 Rick Pelicano
Secretary
NAPEC Secretary Rick Pelicano, Frederick MD, is a retired Captain from the Maryland National Capital Park Police. Having served 36 years with the department, Rick has been traiinng police horses as well as civilians for over 40 years now. He was a monted unit supervisor, and Commander of the Special Operations Division; firearms and defensive tactics instructor; Public Information Officer and Assistant Chief. Rick has a Bachelors Degree from University of Maryland and a Masters Degree in Criminal Justice from Fort Hays Univesity, KS.
Rick published two horse training books from Tragfalgar Press titled Bombproof Your Horse and Better Than Bombproof offering training advice to civilians to de-sensitize their horse. Rick also offered mounted police clinics to civilians. Rick has been competing in NAPEC (formerly Police Equestrian Championships) since 1983. He was NAPEC Equitation Champion in 1990 and 2004.
In Fall 2002, Rick participated in Tournament, a reality documentary produced by Wall to Wall TV Ltd. for the Discovery Channel. The 2-hour televised adventure, airing March 2003, put Rick and three other knights-in-training to the test, staging real-life jousting battles of the Middle Ages. The all-to-period jousting contest mirrored knight training and tournaments conducted some 350 years ago in Europe. Rick won the tournament.
The next time you view Tom Cruise's futuristic film Minority Report, you just might catch a glimpse of Rick Pelicano. In the film's first fifteen minutes, Rick is captured with another mounted officer before the movies Pre Crime Unit makes an arrest.
Rick is a American Riding Instructor Association (ARIA) LEVEL 3 Mounted Patrol Training Officer and ARIA Instructor of the Year 1995.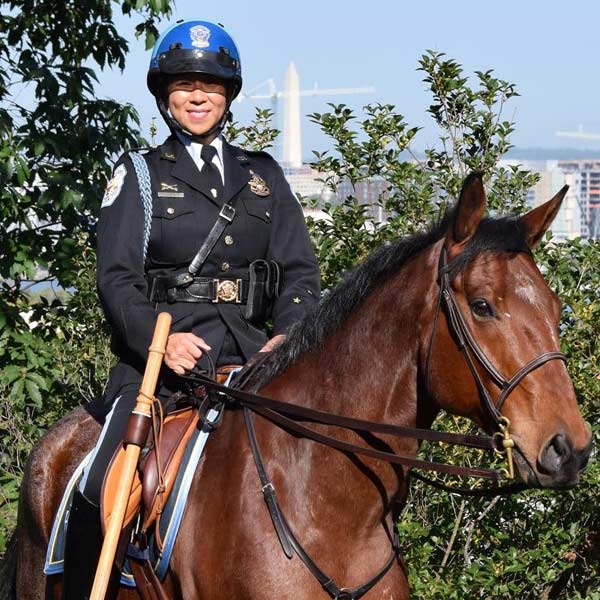 Janet Kim
Treasurer
Board member Janet Kim has been a United States Park Police Officer for twenty-four years, a Horse Mounted Patrol Unit officer for twenty years, and a Horse Mounted Instructor for eleven years. Before becoming a Mounted Officer, Janet was a patrol officer in the U.S. Park Police's Washington Field Office Anacostia Station in the District of Columbia.
As a Mounted Police Instructor, she has been responsible for training and preparing U.S. Park Police Mounted Officers and horses for street patrol in the Washington, D.C., New York, and San Francisco Field Offices.
She has also trained officers from the U.S. Park Police and officers and agents from Federal and local agencies for large-scale special events such as Presidential Inaugurations, Democratic and Republican National Conventions, global political summits, Cabinet-level and Vice-Presidential Mounted dignitary protection, high-density crowd control for the National Mall, White House, National Memorials, and other areas within the District of Columbia.
Janet has held American Riding Instructor Association (ARIA) certifications in Level III Dressage and Level III Mounted Police Patrol, National Association for Search and Rescue SARTECH II certification and is certified as a Use of Force Instructor through the Federal Law Enforcement Training Center. She is also certified as a Level One Civil Disturbance Unit Officer.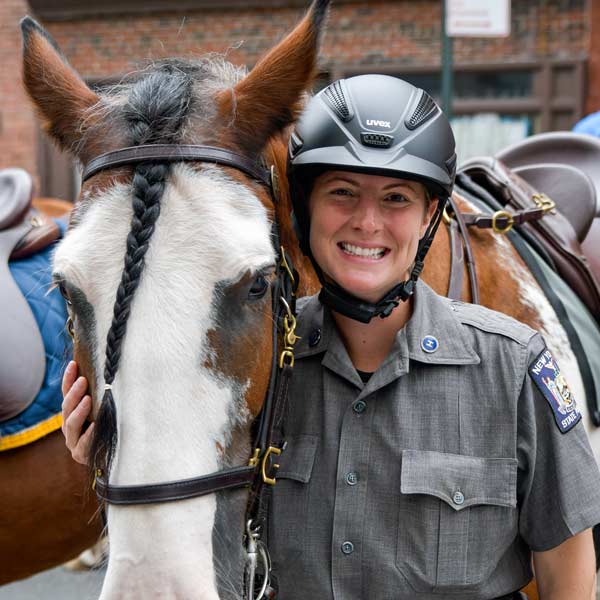 Mary Elena Moran
Director
Mary Elena Moran resides in Goshen, NY. Mary Elena has been a member of the NY State Police for 14 years and is an investigator who holds the permanent rank of Sergeant. She specializes in conducting police academy instruction, dignitary protection, child passenger safety, and mounted police training. Mary Elena has been professionally training horses for the last 19 years and has been riding and competing in multiple disciplines for 28 years. She specializes in natural horsemanship, police horse training, positive reinforcement, as well as rescue rehabilitation and transformations. Mary Elena is a DCJS certified mounted police officer and instructor, winning first place in NAPEC 2018 in Expert Equitation with her clydesdale Madison.
Mary Elena holds a Bachelors Degree in Criminal Justice from Delaware Valley College of Science and Agriculture, a Masters Degree in Criminal Justice-Police Administration from John Jay College of Criminal Justice, is a Level 3 Harmony Horsemanship Certified Instructor, a practitioner of Equine Facilitated Learning modalities: Natural Lifemanship with a Trauma Focus and Equine Experiential Education.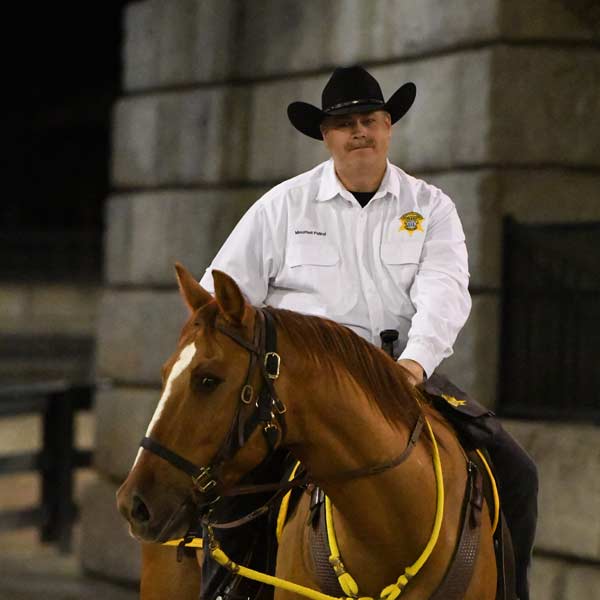 Mark J. McCarter
Director
Mark J. McCarter resides in York, SC. Mark J. McCarter began his career in Law Enforcement with the York County Sherifs's Office and is in his 27th year with the Sheriff's Office. Deputy McCarter has served as a Deputy in the Patrol Division, the Warrant Division, as a SWAT Team Member, and as a Firearms Instructor. Deputy McCarter currently serves in the Civil Division and with the Dive Team. In 2010, Deputy McCarter had the honor of forming The Mounted Patrol Unit for The York County Sheriff's Office. Deputy McCarter continues to serve as The Commander of the Mounted Unit. In 2010, Deputy McCarter became certified as a Basic Mounted Officer, and in 2013, he became certified as a Mounted Instructor (and "Top Student" in the class) through The Mounted Police Training Academy. The Mounted Police Training Academy is the only accredited mounted police school in the nation and is a satellite school of the University of Louisville, with continuing education credits through the Southern Police Institute.
Mark's first word (according to his mother) was Horse, and it has been a glorious journey ever since. Except for between the ages of 5 and 10, Mark has always had or owned a horse. Mark has been training professionally for 25 years and has not found a horseback discipline that he does not like. Mark has attended numerous horsemanship clinics and is always trying to better himself as a horseman. Mark was in a 4H club in his early teens and has been the leader of The Thundering Herd 4H Horse Club for 14 years now. Mark has a Bachelor of Science Degree in Human Services from Wingate University, 1995.
Mark J McCarter has competed in NAPEC since 2013. With the help of his Quarter Horse, Cochise, he is the 5 time overall highest combined score and winner of the Brigadier Trophy in 2015, 2017, 2018, 2019, and 2022. Mark and Cochise also won the McCarthy Trophy for LEO Obstacle Champion in 2015 and 2022, and the Parnell Trophy for Expert Equitation in 2019.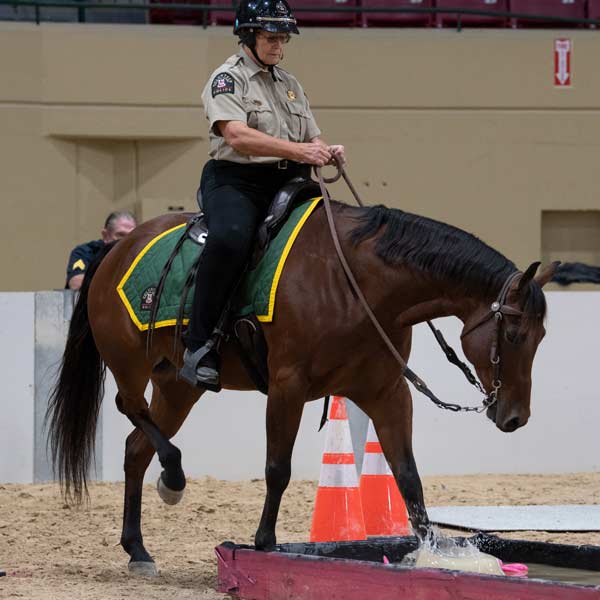 Linda Reed
Director
Linda Reed resides in Woodbine, MD. Linda has been married to her wonderfully supportive husband for 40 yrs. We have 3 boys that are all married to wonderful wives and we have 6 amazing grand kids.
Linda was raised on a quarter horse farm and was involved in 4-H and pony club. As a family we showed up in down the east coast riding both english and western. Having always wanted to be a Mounted officer I became a volunteer Mounted officer with Howard County in 2012. in 2014 and 2015 I won the Aux. Expert Equitation. I stay busy with our small farm, church activities and of course the grand kids. She enjoys baking cookies for police week.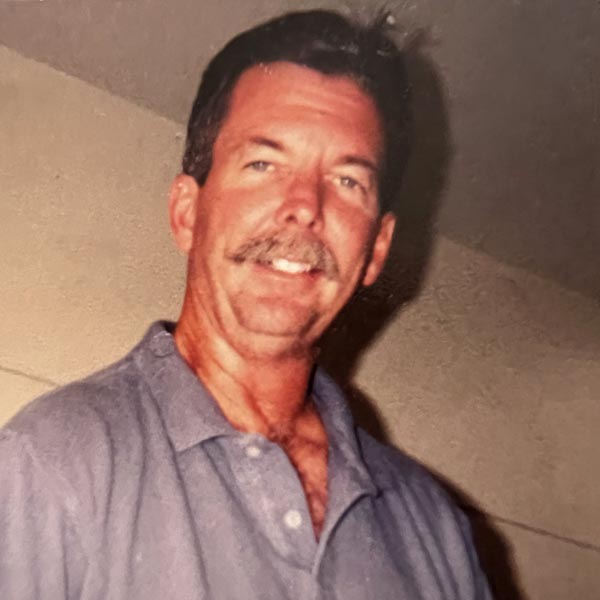 Ron Markland
Director
Ron Markland joined the United States Park Police in 1977. Seven years later he graduated from their horse mounted training program and was subsequently assigned to the training branch where he spent the majority of his career. He trained not only donated horses but military, Secret Service and officers from all over. Ron and the rest of training staff worked closely with the Secret Service not only at Camp David but at places where horse mounted security was needed. In the 1980's, along with officer Ralph Pfister and Alex Wynnyk they were offered the opportunity to participate in a pilot program with the RCMP in Canada. This program turned out to be a huge success.
In 1996, the horse mounted Park Police played a critical role in not only securing the bomb site but also with crowd control at the Summer Olympics in Atlanta Georgia. For this, the unit received a commendation from the United States Department of the Interior. One of the highlights of his career was in 2008 when he and another officer were asked to spend a month in the Republic of Georgia helping to train their start up National Police Force prior to the push for independence from the Soviet Union. He retired in December 2008 to spend time with his wife Barbara, three children, eight granddaughters and various dogs. He has been active both as a participant and board officer of NAPEC since it's inception.

Brad Wicklam
Director
Retired after 35 years with the Kingston Ontario Police. During the last 7 years of a long career was in charge of the mounted unit. At present is active with the mounted unit in helping select and train new riders and horses. Has been an active broad member of NPEC since 2005 and has chaired the hosting of NPEC in 2004,2008 and 2016 in Kinston.